SAN DIEGO MILITARY BANKRUPTCY LAWYERS
Members of all branches of the military have the right to file for bankruptcy. San Diego Military bankruptcy lawyers at Chang & Diamond, APC can help.
Payment Plan Available | Se Habla Español
THE ROLE OF SAN DIEGO MILITARY BANKRUPTCY ATTORNEYS
Bankruptcy filing is a legal right provided by Federal law and the U.S. Constitution. Although military personnel are held to a higher level of responsibility than other individuals regarding their finances, obtaining bankruptcy protection is not irresponsible.
It's the other way around. Dealing with debts instead of running away from them is financially responsible. Filing a bankruptcy is a more financially responsible act than ignoring your debts and creditors.
If you consider filing for bankruptcy, you may have to sit down with a San Diego bankruptcy lawyer and discuss your situation.
They can help you decide between filing a Chapter 7 or Chapter 13 case. You have to pass the means test if you want to file under Chapter 7. The test can determine whether your income is low enough. However, income will include income from all sources, including BAH (Basic Allowance for Housing), BAS ( Basic Allowance for Subsistence), and other regular income. If you do not qualify to file Chapter 7, you may still file Chapter 13 bankruptcy.
Either way, bankruptcy can provide tremendous financial relief and give you a fresh start. And an experienced military bankruptcy attorney can make the whole process straightforward. Chang & Diamond, APC, dedicate their practice to providing clients across San Diego County with bankruptcy assistance.
CAN ACTIVE DUTY MILITARY FILE BANKRUPTCY?
Yes, Active Duty Military, (Navy, Army, Marines, Air Force) can file bankruptcy to a positive outcome. Our lawyers are well versed in all aspects of Bankruptcy law including requirements of the military. 
There are many ways that you could find yourself with unmanageable debt. San Diego and National City advertise almost unlimited credit to military personnel. 
Creditors feel that since the Military requires its people to manage their finances on a higher level than their civilian counterparts then they are a good candidate to lend to. On the flip side, if a person is offered unlimited amounts of credit he or she can find themselves way over their head very fast.
Having unmanageable debt can affect your security clearance. It is impossible for any Attorney to determine whether bankruptcy affects your security clearance; that is up to the person reviewing your clearance. However, ridding yourself of negative debt may have a positive effect on your security clearance. 
Another possible benefit of filing for bankruptcy is that neither you nor your spouse would have to worry about creditor harassment calls while at home or deployed.
CAN I FILE FOR BANKRUPTCY IF I'M BEING DEPLOYED?
Yes. Each lawyer at Chang & Diamond here in San Diego, as well as the Bankruptcy Courts are very understanding and appreciative of our nation's Military. We can prepare your case and communicate electronically. Also if your hearing date is scheduled while you are on deployment we can request a continuance or schedule a telephonic hearing.
WHAT ARE THE EFFECTS OF BANKRUPTCY ON MY CAREER?
The U.S. Military requires that its Personnel maintains a certain level of financial  reasonability.
If a person is unable to rectify their bad debt situation they can be discharged from the Military.
There are many options and services available to military families to help them get back on track. Your Command may require you to speak to professionals about financial management. Bankruptcy is only one of these options. Our experienced San Diego attorneys can educate you about your Chapter 7 or Chapter 13 bankruptcy options. We are very understanding and well versed with the Military Culture.
It is important to note that nobody from our office will contact your Command.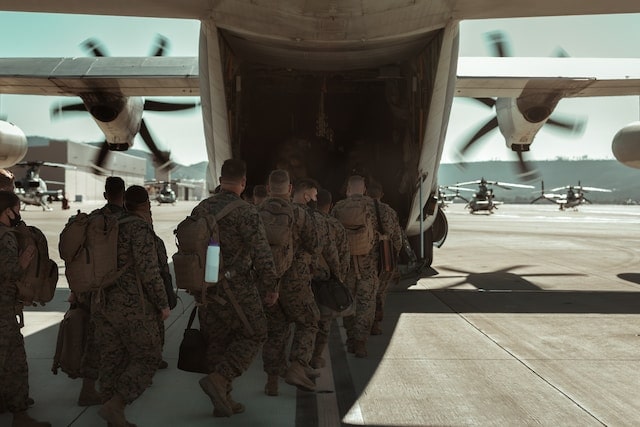 HOW CAN OUR SAN DIEGO BANKRUPTCY ATTORNEYS HELP?
San Diego, California has a huge military community and also a huge cost of living. While the Military does account for the costs of living here in San Diego with BAH and BAS, there may come a time when your debt has gotten out of your control.
If you find yourself looking at filing a military bankruptcy please consider enlisting the services of Chang & Diamond. We have over sixteen years of experience assisting San Diego's Military personnel regain control of their finances and getting back on track.
Our law firm salutes you and thanks you for your service. Let us show our thanks by helping you maintain your finances and get out from under your bad debt.
Book a Free Consultation With Ease
Find out why we're some of the best bankruptcy attorneys in San Diego